Apple's iPhones are extremely secure once you've used TouchID or FaceID and a passcode to lock them down, but there was a loophole with specialized USB tools plugging into the lightning port. Here's how to enable USB Restricted Mode to secure against it.
How Does USB Restricted Mode Work?
The hacks work by connecting through to your iPhone's Lightning port over USB, the same way that you'd plug in your iPhone to backup using iTunes, but there are passcode cracking tools that abuse this port to hack your iPhone.
Once you've enabled USB Restricted Mode, your iPhone will completely shut off USB access to the iPhone if your phone hasn't been unlocked for more than an hour, eliminating the potential for attack.
RELATED: What's New in iOS 12, Arriving Today, September 17
It's worth noting that depending on where you live, you can be compelled to provide a fingerprint to unlock your phone, so if you're traveling and you want to prevent that, you can temporarily disable FaceID or TouchID and require your passcode instead.
Enabling USB Restricted Mode
Yesterday Apple released iOS 11.4.1, which is a small release that brings the new iOS 12 security feature back to iOS 11 users. So if you want to enable USB Restricted Mode, you had better go tend to the red notification on the settings icon and upgrade to the latest update.
Once you're done with that, open up Settings, and head to Touch ID & Passcode (or if you're on an iPhone X, you'll need Face ID & Passcode). You'll be prompted to enter your passcode to get into the next screen.
Now you'll want to make sure that the USB Accessories toggle is turned off in order to enable USB Restricted Mode. Does that make sense? No, it's kinda confusing.
The better way to think of this is "Do you want to enable USB accessories to hack your phone?", and of course the answer is "No thank you". So you'll turn that toggle off.
There's One More Thing
It's worth noting that nobody has been able to hack USB Restricted Mode yet, once it's actually been an hour since you unlocked the phone.
But almost immediately after this feature made it out to the public, a cybersecurity firm found a loophole (ElcomSoft via The Verge) that resets the counter that determines whether it's been an hour since you've locked the phone.
So while Apple will definitely patch this, if somebody steals your phone before that patch comes out, and then immediately plugs in a special accessory into the Lightning port, and then rushes it to the lab where they have hacking tools, they will be able to hack your phone.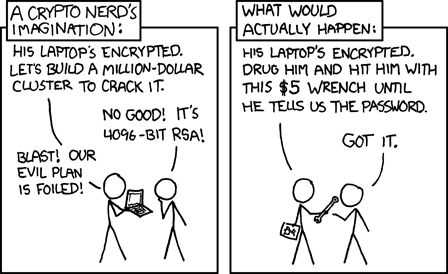 None of this solves the $5 wrench problem though.