I installed VB on Ubuntu, and I installed Windows xp in the Virtual Box, and I want to share the folder form ubuntu to xp.
my computer has ubuntu and win7 dual system.
when I set the share from my win7 folder, the tips said this: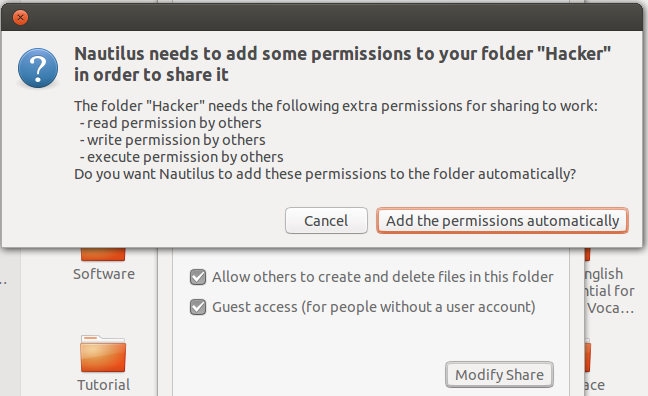 but I can't set the read/write permission:


each time I choose the "folder access" to "Create and delete files", it becomes "None" auto.
I can only set the "file access", but only set this can't access in the VM, whatmore, when I set "file access" and I choose "folder access" and choose someone next, all the two selection becomes "None".
ubuntu system share wroks fine, I can set folder's property and the shares folder can access in xp VM, here's part of my setting:

what should I do to share the folder in my win7 to VM?
======================================
one more question, my VM xp default resolution is 800*600, it's little small, I want make a full screen, but when I choose a larger one, It becomes so large and I can's see the task bar if I don't scroll down the scrollbar, what should I do?