1. Malwarebytes

Malwarebytes, a 32 bit only application, it is worth having due to its fast scanning and general ease of use. Effective at detecting and removing trojans, results are as impressive for other types of malware.
2.CCleaner

CCleaner, scans for both junk files and registry errors. The registry cleaning component only handles that part of the registry visible to 32 bit applications and is quite mild. Additional features include cookie management, program removal, and secure file erasing.
3.Speccy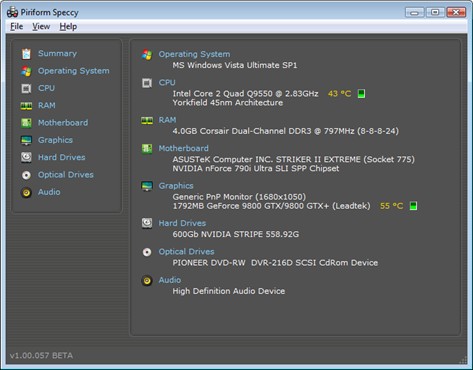 Speccy will give you detailed statistics on every piece of hardware in your computer. Including CPU, Motherboard, RAM, Graphics Cards, Hard Disks, Optical Drives, Audio support.
4.Recuva

Recuva, is a freeware Windows utility to restore files that have been accidentally deleted from your computer. This includes files emptied from the Recycle bin as well as images and other files that have been deleted by user error from digital camera memory cards or MP3 players.
5. Drop-box

Dropbox is a file hosting service operated by Dropbox, Inc. that offers cloud storage, file synchronization, and client software.
Ps.Let me know in the Comments what you guys think or if you use other programs that does as good of a job.