Hii guys..for info..my office using Vista Business,Internet Explorer 7
My problem is the connections tab is missing in Internet Options .I want to enable it back in internet options so i can make some tuning there in LAN Connections. Normally there was 7 tab menu in that Internet Options.
1.general
2.security
3.privacy
4.content
5.connections
6.program
7.advanced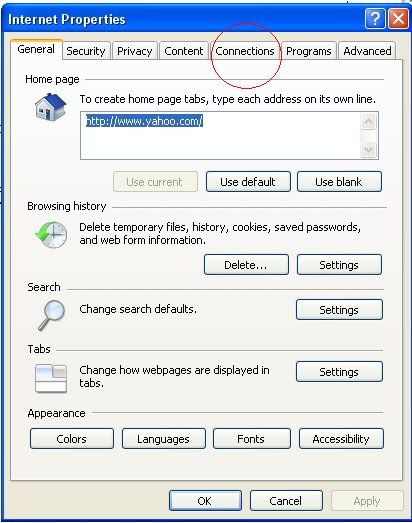 Now the tab no.5 for connections was disable by somebody for unknown reasons.can someone help me to enable it again.Any help kindly regards from me.
In XP i know how to enable it by doin this
go RUN, type in gpedit.msc
then u wil get group policy windows,
Go to the following,
Computer Configuration\Administrative Templates\Windows Components\Internet Explorer\Internet Control Panel
now u can see the 'tabs' of IE, u may configure there.
But in vista i didnt found thats "run" ,the "help menu" said we need to run from msdos,then type "gpedit.msc"
,i'ved tried it,but it's wont work.