Ok,
Basically, for my coursework I need to create a booking system for a school production (like a theatre)
As you can see in the picture, I have copied out the stage plan, and then in the section that I have (very badly) highlighted in yellow scribbles, I will need a table, using =COUNTIF formulas and similar to work out how many seats are taken etc. I know how to do all that side of it, but the thing is, as you may notice in the screenshot, I have had to fiddle around with the cell size so the whole stage plan fits on the screen.
This then means that for the whole sheet the sizes are different, and I can't possibly have a table with the dimensions that I have changed it to!
So, essentially, what I am asking is how do you change just some of the margins - I want the highlighted area 'sectioned off' if you like so that the margins can go back to default in that bit.
Normally I would use a picture or something, but obviously all the data needs to be updated all the time - you change something in the plan (eg add an 'a' or 'c') and that will change the chart.
So, I know this is a lot to read and probably quite a lot to ask, but I could really do with solving this! Thanks :)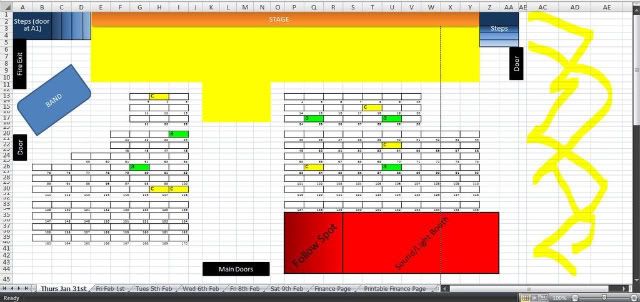 Link to full size image:
http://i294.photobucket.com/al.....xcel-1.jpg