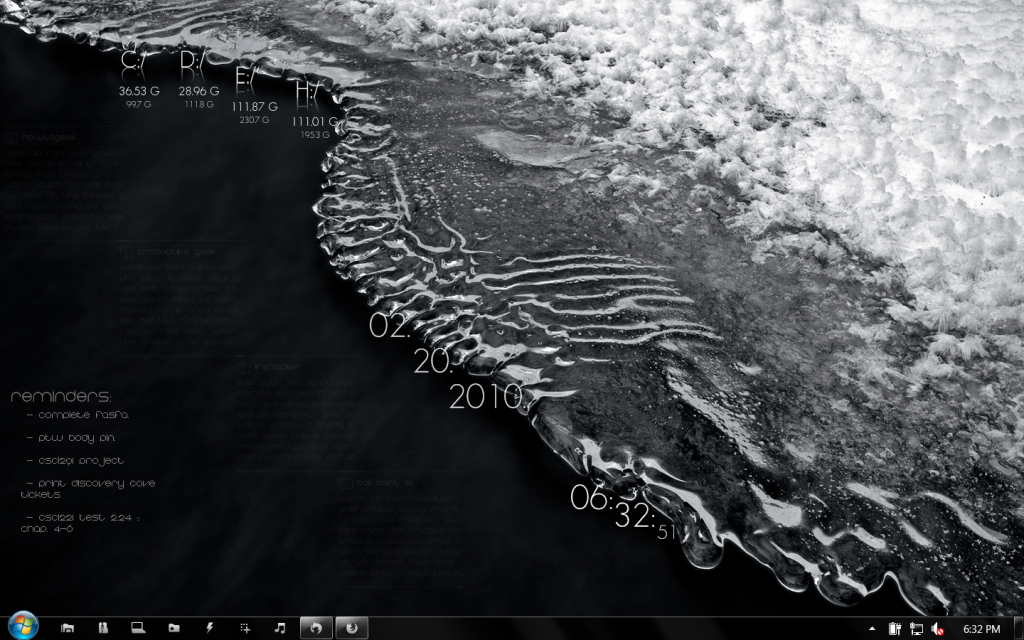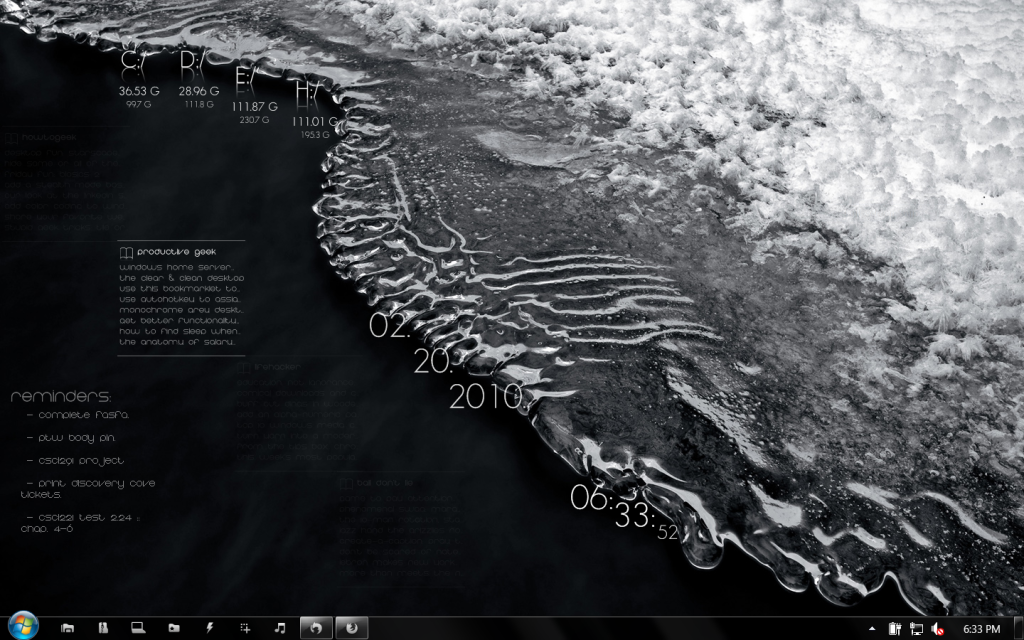 This is what my first experiences with Rainmeter have lead me to so far. It's a work in progress, but most things I do usually are. Most of the skins are based around the GeoSans 2.0 Skin by gberger. I'm using his skins for the drive icons, and have modified a few others to use the GeoSans font, which I've come to love. Other skins used include:
– SimpleMeter V1.02 by Chewtoy. I modified his clock setup pretty heavily to fit my needs.
– Yboris' ToDo List Skin from yboris. Again, modified heavily to fit the theme. The font used here is Eight One by =glue, another nice font.
– The default Enigma RSS Reader skins. There are four of them used total – one for HowToGeek, one for ProductiveGeek, one for Lifehacker, and one for a basketball blog. They're all customized to use the Eight One font and are set to a high transparency, fading in when I mouse over them.
– A custom built date skin, again using the GeoSans font set.
I also modified the icons of my pinned Taskbar programs to a set called Token by brsev in order to stick with the subdued color theme. The wallpaper used is Icy Undertow from TheReal7.
I'm pretty happy with it so far. It's more minimal than I'm used to, which is nice. I use a fair amount of Autohotkey scripting to allow me to use the keyboard for mostly everything. I built a quick script to let me easily add a task to the ToDo list using an Input Box and the FileAppend command, making adding a task very quick. The next thing I want to do is change the start button to a darker one, as I feel it kind of stands out right now.
I'd love to hear your opinions and suggestions, though. What do you think?
~ Optimus